October is soon upon us, and it's time for an update on what we're up to at Life on Earth Pictures. The good news: the wheels are turning.
Doing photography (like almost everything else) since the arrival of COVID-19 has been a challenge. But while the pandemic has massively impacted us as visual content producers over the past year and a half, there has been no lack of justice issues to highlight, and we've endeavoured to collect relevant material for faith-based organizations, media and others to use whenever possible.
If you've followed us closely in the past year, you will have seen our coverage of climate change protests in the UK, of Black Lives Matter in the US, our in-depth work on Ebola and COVID responses in DRC, migration and climate crisis in Central America, and our recent coverage of the many facets of migration and the US, to mention a few examples.
And as an agency, even amid the deep financial ramifications of a world facing this pandemic, we're delighted to say we've continued to see new clients signing up as subscribers to our Life on Earth Pictures archive.
We are deeply thankful for this, both as it helps sustain us as photographers and videographers and for the recognition that it gives to the importance of genuinely high-quality visual storytelling today.
With Paul, Sean and Albin now all fully vaccinated, the wheels are turning again and we are looking to gear up our production of new content.
Paul and Sean are currently on the road in South Sudan on a seven-week journey to cover faith-based work and the humanitarian situation in the country, through both still images and video.
A first sampler from South Sudan is available in our archive, with much, much more to come by early November.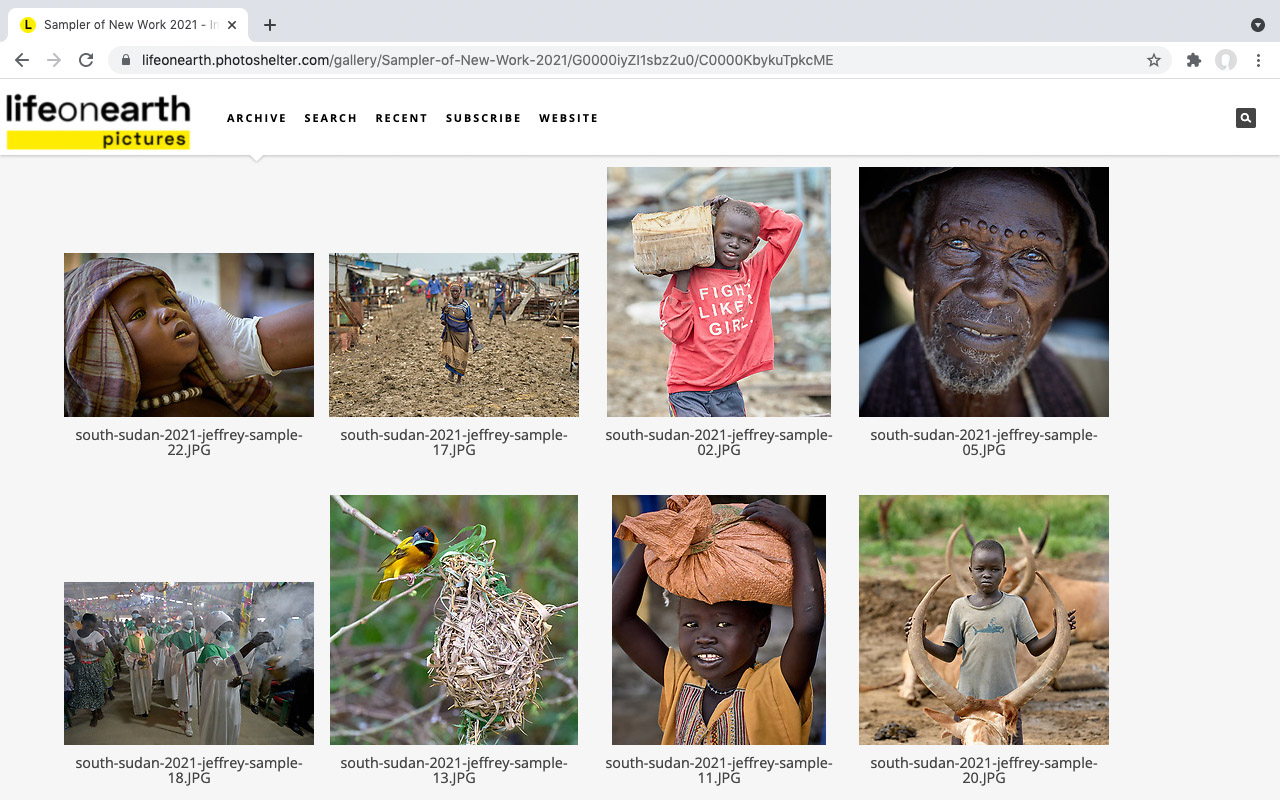 The South Sudan venture goes on for another few weeks, so if you're interested in any specific material from the field, don't hesitate to be in touch via info@lifeonearthpictures.com.
Plans are also in the making for coverage of the upcoming United Nations climate change conference (COP26) in October/November, and there will certainly be much more to come after that, as we continue our efforts to bring you the content you need, consistently and conveniently.
Our archive currently includes images from 95 countries across the globe. But it also features a range of thematic galleries that you can draw on as you prepare your communication work or news operation.
Churches and ecumenical organizations are currently observing the Season of Creation after which will follow the lead-up to COP26, so check out our galleries on Climate, Creation or Spirituality; 15 October marks the International Day of Rural Women, so take a look at our featured gallery on Women. World Food Day is coming up on 16 October, so peruse our galleries on Food or Agriculture, for World AIDS Day (1 December) scan our gallery on Health or explore our past work specifically on HIV and AIDS, and for Human Rights Day on 10 December dive into our galleries on migration, conflict, or indigenous peoples.
We are committed to providing compelling visuals that you can actually use.
We're equally convinced our services and annual subscription packages are the best value for money out there for images of faith-based and humanitarian work.
Don't hesitate to let us know how we can be of use to you, and give us a shout if there's any specific material you'd like to see us produce in the future.
Let's keep in touch!
Albin, Paul and Sean
Life on Earth Pictures